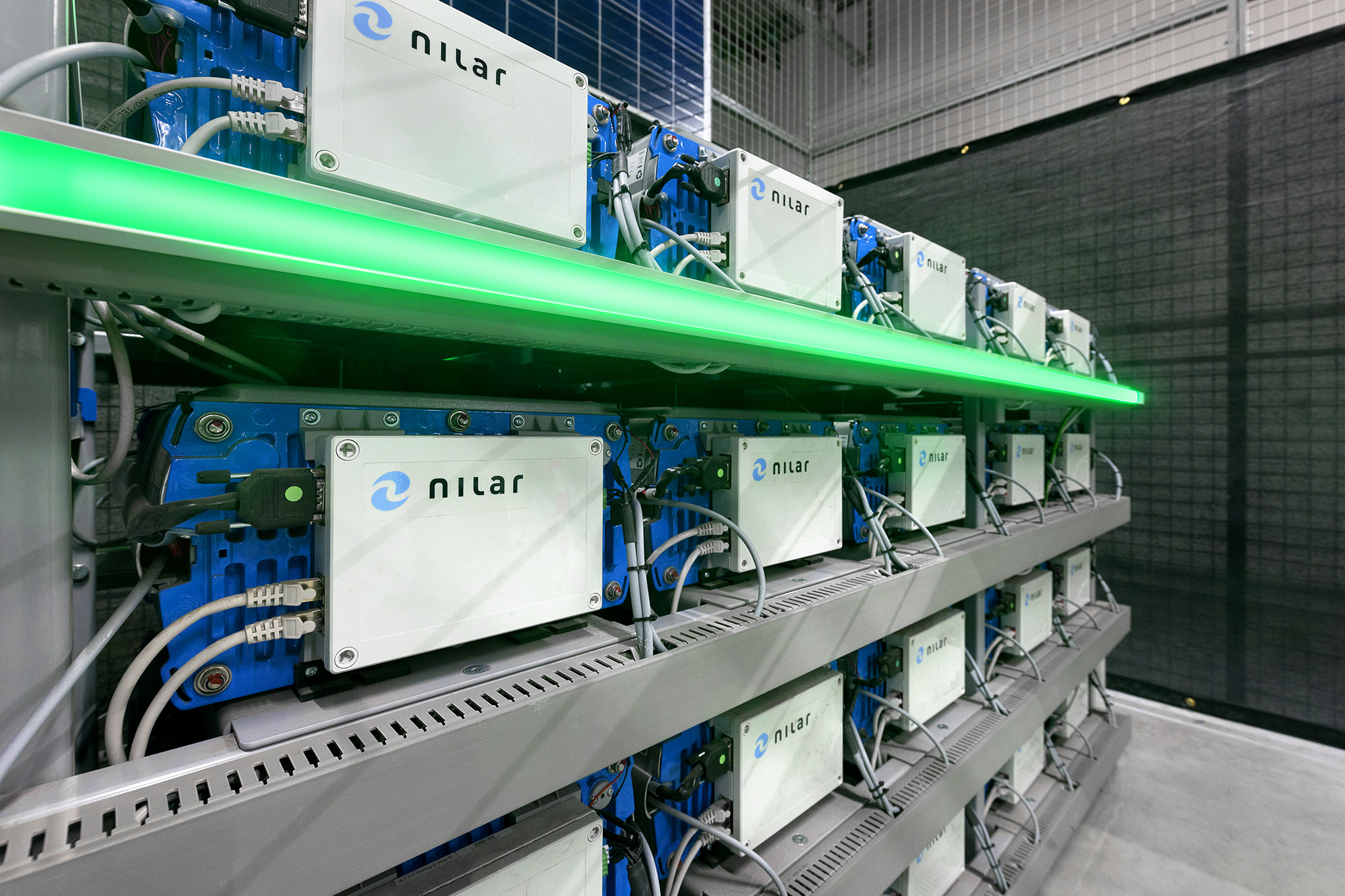 What if a solar power system generates more energy than is needed during the day? Normally, surplus power is fed back into the network. At Prologis Park Venlo DC7, a modern 60,000 square meter distribution facility in the south of the Netherlands, we are trying a different option—local energy storage.
For this pilot, we teamed up with Swedish battery supplier Nilar, which recently installed 40 battery packs at the facility with a combined storage capacity of 48 kilowatt hours. We chose Nilar because its batteries do not contain heavy metals and are 99 percent recyclable. The system, weighing about 1,400 kilograms and standing over 2 meters high, can power the equivalent of 180 office lights for up to six hours.
How does it work? The nickel metal hydride batteries are charged by solar panels. At Venlo DC 7, we chose to mount photovoltaics on the glass roofs of the bicycle sheds and the canopy above the outdoor lunch area. We will monitor the system's performance to explore the capabilities of renewable energy and other storage alternatives, such as smart grid, peak shaving, grid backup and load shifting.
Arthur van Kooij, head of project management in Northern Europe and local manager of the pilot, sees a strong benefit for Prologis customers: "This storage system pilot will greatly enhance our exploration of the potential synergies between solar power and battery deployment. It will teach us to understand battery storage technology and the role it can play in future renewable energy projects for Prologis and for our customers."
Local energy saving is not the only sustainable feature at Venlo DC7. The building is equipped with smart metering and a narrow casting system, which will allow us to measure and monitor the overall energy performance.
Sustainability and innovation often go hand in hand. We believe it is important to offer our customers solutions that not only reduce their carbon footprints, but also benefit their bottom line. Storing excess energy from solar panels is a great way to achieve these goals. We are excited about this project and will share developments and insights as we proceed.
Prologis Benelux initiated this energy storage project in partnership with general contractor ASK Romein, battery supplier Indutecc Industrial Solutions, electrical installer Bras Elektrotechniek and battery manufacturer Nilar Sweden.
For more information about Prologis sustainability innovations or pilots in this field, please contact Arthur van Kooij, head of project management in Northern Europe.
Read more about Prologis' approach to sustainable development.
Older Article
Prologis White Paper: Supply Chain and Logistics Real Estate