Pentrade, the Rotterdam based duty-free wholesaler who delivers duty-free services to a wide range of markets, has signed a long-term lease agreement with Prologis. The leased facility, located at Prologis Park Botlek DC1, will be both their central distribution center and head office, and will support Pentrade with their growth ambition. At about 10,500 square meters, this integrated warehouse and office facility offers great connectivity being close to various important motorways and terminals. Botlek DC1 also enjoys various sustainable features, such as LED lights and a heat pump, granting it a BREEAM Very Good certificate.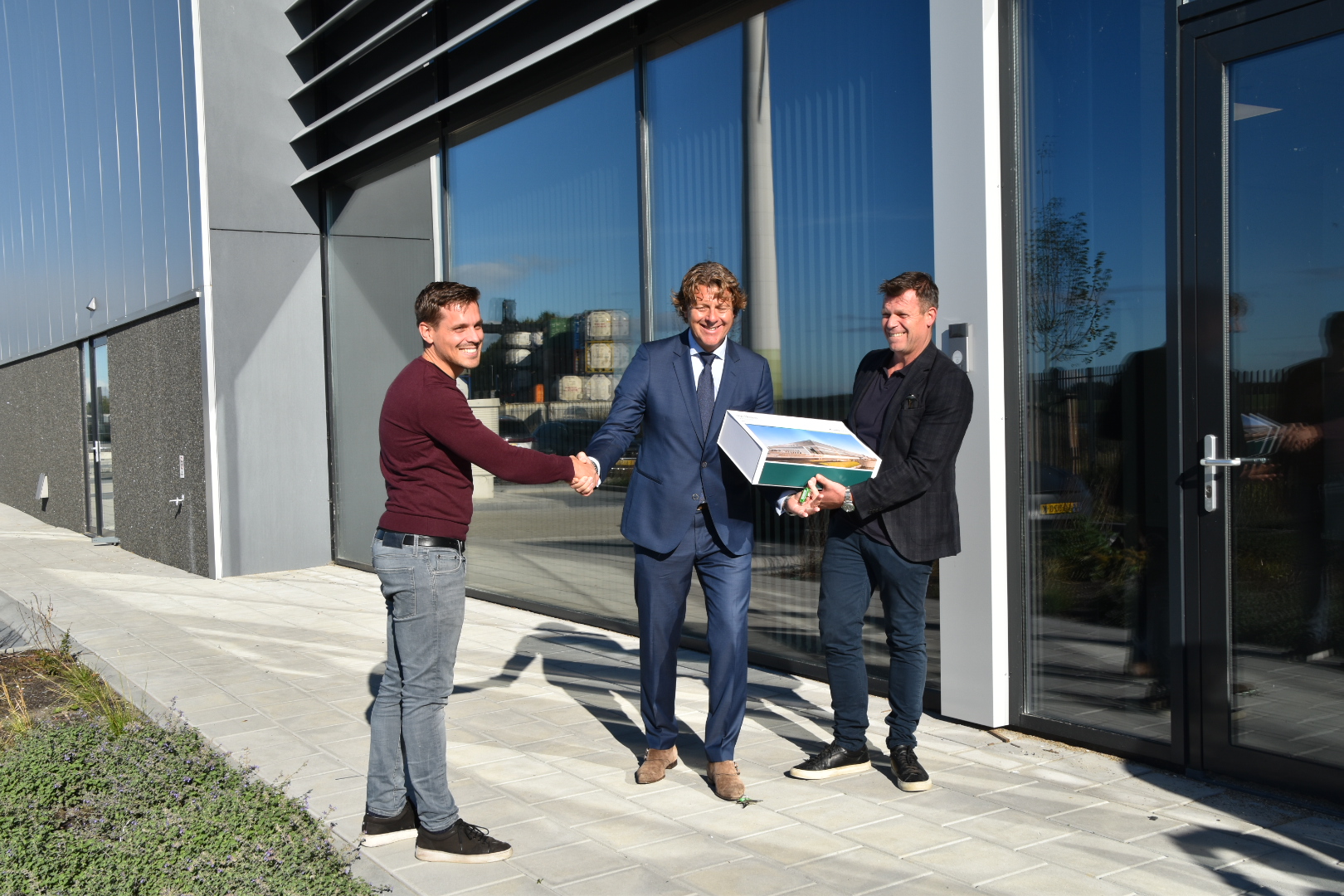 Photo: handover logistics facility Botlek DC1. From left to right: Daan Til (Facility Manager Prologis), Philip Reidel (Director Pentrade) and Danny Nossent (Co-director Pentrade). 
Duty-free to the next level
Pentrade FMCG Group has been a distributor in Fast Moving Consumer Goods since 1979 , once started as a supplier to ship suppliers, now active worldwide in duty-free and international markets. With Prologis Park Botlek DC1 as the new head office and central distribution center, Pentrade FMCG group is able to further optimize efficiency in the desired route-to-market.
The long-term lease agreement allows Pentrade  to take this step forward to further strengthen and develop their role as a distributor in FMCG within the Duty Free and international markets.
Philip Reidel and Danny Nossent, both owners of Pentrade: "In everything we do, we want to express our mission, vision and corporate identity. Our mission is to be a preferred partner for our suppliers and customers and our ambition is to ensure a sustainable and pleasant workplace for our employees. That is why we are delighted with Prologis as our reliable partner in business, as they enable us to realize our mission."
Flexibility for optimal customer service
Botlek DC1 covers 10,500 square meters, has a span of 45 meters, and is column free. This creates maximum flexibility for Pentrade to arrange the space according to their needs, and allows them to take the next step in their growth ambition and optimally serve their customers.
Marijn van den Heuvel, Capital Deployment & Leasing Director Benelux adds: "Similar to Pentrade, we like to see satisfied business partners and mutually successful business. Because we see eye to eye on the importance of customer centricity, we are excited to partner with Pentrade and help them stay ahead of what's next."
Prologis was advised by De Mik Real Estate Partners and Cushman & Wakefield in this transaction.
Older Article
Prologis' 2021-22 ESG Report Sets Net Zero Ambition by 2040
Newer Article
Global logistics provider Nippon Express signs long-term lease agreement with Prologis in Rotterdam to facilitate expansion