"We take care of our customers, communities and the world around us. Our focus is to build a better future for everyone through constant innovation and by developing solutions in areas like labour, energy efficiency, carbon neutrality and smart building technology. This is highlighted by our 2021-22 ESG report, which describes our European efforts and how we raise the level of our ambition to accelerate decarbonization and achieve net zero emissions by 2040. With ESG well woven into our fabric, Prologis Europe buildings and services are central in creating both business value and positive impact. "- Ben Bannatyne, president, Prologis Europe
Creating Value Through ESG
At Prologis, our approach to sustainable logistics is customer centric. When we minimize the impact of construction, maximize building operating efficiency and provide value-added services such as electric vehicle (EV) charging and workforce development, we can boost our customers' bottom lines and help them achieve their ESG goals. When we engage proactively with the communities we serve, incorporate their ideas and minimize their concerns, we build trust and create the conditions where both the business and community can flourish.
Key Takeways:
Net Zero Ambition – We commit to achieve net zero emissions by 2040 for our entire value chain covering scope 1, 2 and 3 emissions.

1 GW of solar generation capacity (supported by storage) by 2025
Carbon neutral construction by 2025
Net zero for operations by 2030

Emissions Reductions - Since 2019, we have been carbon neutral for our Scope 1 and 2 emissions, and we have decreased our Scope 3 emissions 38% from a 2016 baseline.
Solar Leadership - Our goal is to build 1 GW of solar energy capacity, supported by
battery storage, by 2025.
Groundbreaking Sustainability – We have committed to achieving carbon neutral construction by 2025 for every building we build or redevelop.
Leading examples in Europe include:

Park Moissy II DC1 near Paris was built with no gas connection and relies on design efficiencies, rooftop solar and borehole geothermal energy storage for heating, cooling and power. Having just obtained BREEAM Outstanding, Moissy II DC1 is in the top 10 worldwide for all types of projects combined, achieves the highest score in France for all types of projects combined, and highest score worldwide for a logistics building.
Prologis Park Nieuwegein DC2BC with the recent, highest ever, WELL Platinum certification, and Prologis Park Waalwijk DC3 which was built using approximately 30% overall circular, bio-based or cradle-to cradle (C2C) materials, with all materials catalogued in a digital materials passport to facilitate future reuse.

Inclusion and Employee Engagement - 88% of our employees reported being engaged by
their work at Prologis, and we continued to expand our inclusion and diversity programs with the creation of five new sponsored employee resource groups.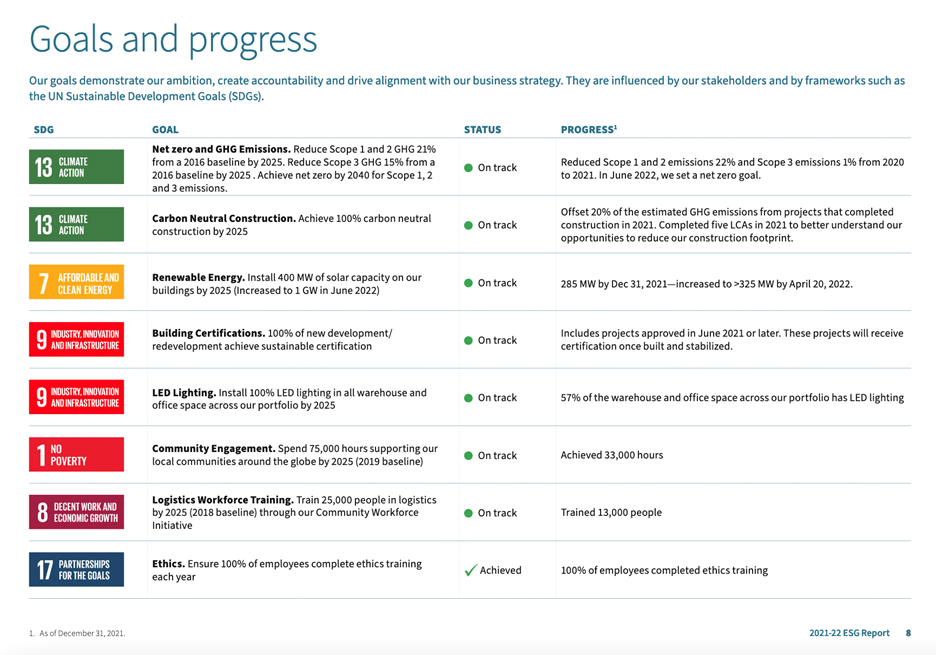 Newer Article
Pentrade takes next steps in growth ambition by signing long-term lease agreement with Prologis