To support customers achieve their growth ambitions and facilitate the growing demand for sustainable and strategically located logistics space, Prologis acquired 6.5 hectares of land at the sustainable business park Business Centre Treeport (BCT) in Zundert near Breda. Prologis will develop a high-quality 47,246 square meter warehouse facility with a BREEAM 'Excellent' classification. The development of Prologis Park Breda DC4 has recently started and will be completed mid 2024.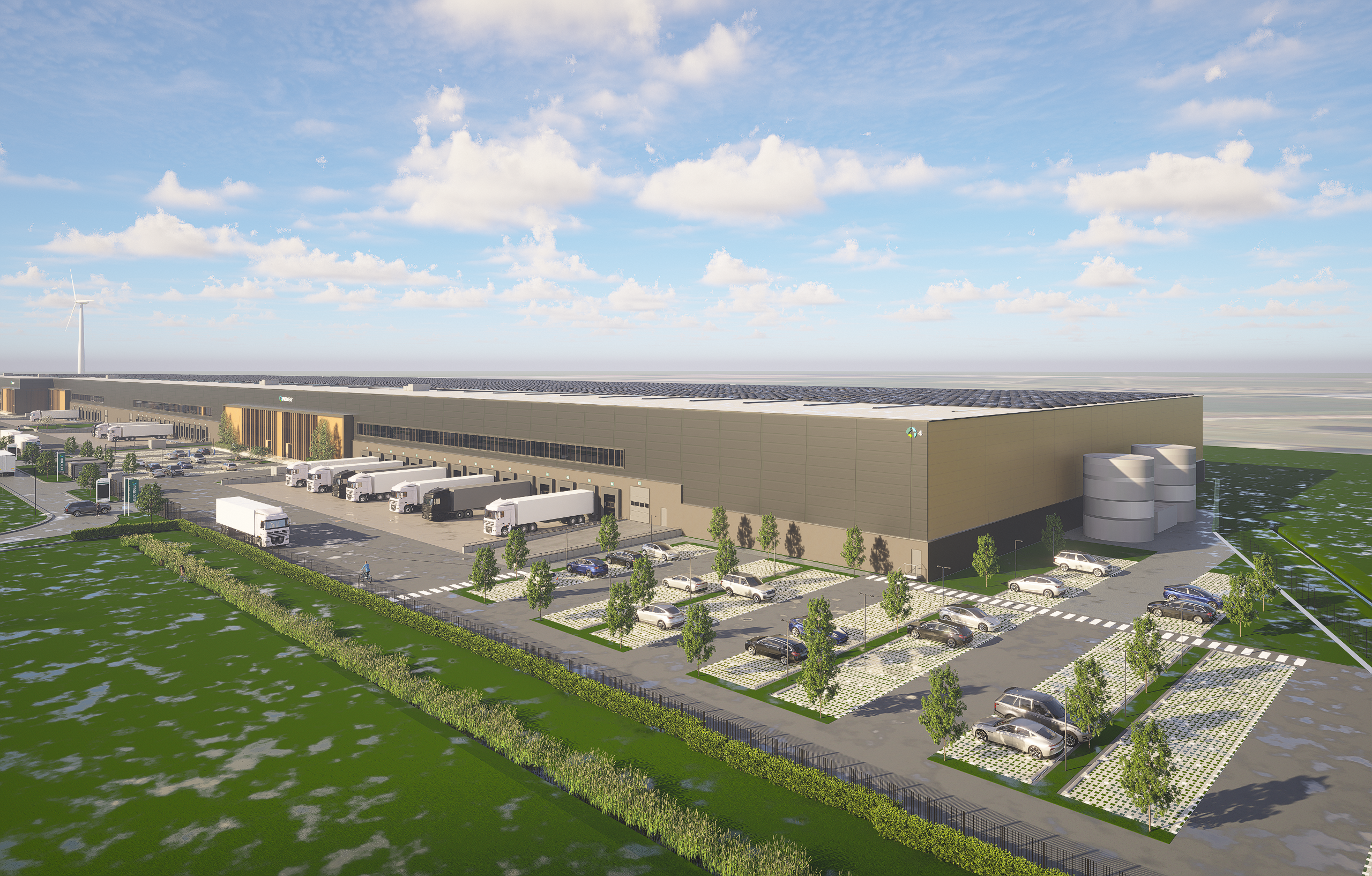 Prologis Park Breda
DC4 On the 6.5 hectares land, Prologis is building a high-quality 47,246 square meters warehouse with 12.2m clear height and 5,000kg/sqm floor load. Due to the low vacancy rates in the area, continued demand, and scarcity of logistics zoned land, this new warehouse allows customers to grow sustainably at a strategic location.
Sustainable development
The all-electric warehouse is designed with sustainable features to accelerate customers' sustainability goals and aligns with Prologis' Net Zero Carbon ambition for 2040. For example, the warehouse will be provided with high-efficiency heat pumps, LED lighting, water-saving measures, solar and amenity charging, life cycle assessments, and smart metering for real time energy data. This will at least result in an 'Excellent' BREEAM classification.
An important reason for Prologis to invest in this location is BCT's ambition to become one of the highest quality and sustainable business parks in the Netherlands. The park generates its own energy by means of wind turbines and solar parks. An ecological connecting zone also makes the business park a pleasant environment for employees.
Strategic location
Zundert, near Breda, has a unique geographic location between the main ports of Rotterdam and Antwerp, allowing fast and efficient worldwide transport with optimal inland and international connectivity. In addition to providing customers a high-quality warehouse on a great location, they can benefit from the Prologis Essentials program supporting an easy set up and smooth operations.
Jack Geurtjens, VP Capital Deployment at Prologis: "Acquiring this land allows us to answer to the growing customer demand for sustainable logistics space. We look forward to realizing the sustainable ambitions of the business park together with Treeport BCT Partners. We would like to thank DV projects – a joint venture of Dudok Real Estate and construction company Vrolijk - for their trust."
Prologis was advised in this transaction by De Lobel & Partners and Stibbe.
Click here for more information about Prologis Park Breda DC4.
Newer Article
Very first Zero Carbon Certification for logistics building worldwide awarded to Prologis Park Eindhoven DC4