Prologis Research is pleased to introduce a new proprietary metric: Prologis True Months of Supply (TMS), as well as to report on Q1 Industrial Business Indicator (IBI) Activity Index. TMS describes the precise interplay of supply and demand. The Prologis IBI is a proprietary monthly diffusion index derived from three components: the business activity index, the space utilization index and the actual
rate of space being utilized.
Prologis True Months of Supply
Prologis True Months of Supply (TMS) correlates to real estate leasing conditions. This proprietary measurement accurately captures supply/demand dynamics by comparing all vacant spaces (existing + unleased development pipeline) to trailing net absorption. Traditionally, months of supply for logistics real estate is calculated as the total development pipeline vs. net absorption. However, this can send inaccurate signals in markets with very low vacancy (and low trailing net absorption). TMS corrects for this disparity.

TMS in Europe is at a record low of six months. Europe tends to have a lower TMS than the U.S. due to a higher proportion of build-to-suit developments in the pipeline and newer logistics inventory with fewer obsolete vacancies. TMS has a high correlation (-0.9) with market rent growth since 2007.
"This new metric provides a good indication of potential rent trajectory. In Europe, TMS is at record low of 6 months which is 10 months below the U.S. Over time, this difference narrowed but remains relatively wide. As characteristics of markets differ, TMS differs as well, with one of the main reasons being a higher build-to-suit (BTS) share in the development pipeline. Last year approximately 60% was BTS compared to 15% in the U.S. These are extremely interesting findings," – Dirk Sosef, Vice President Research & Strategy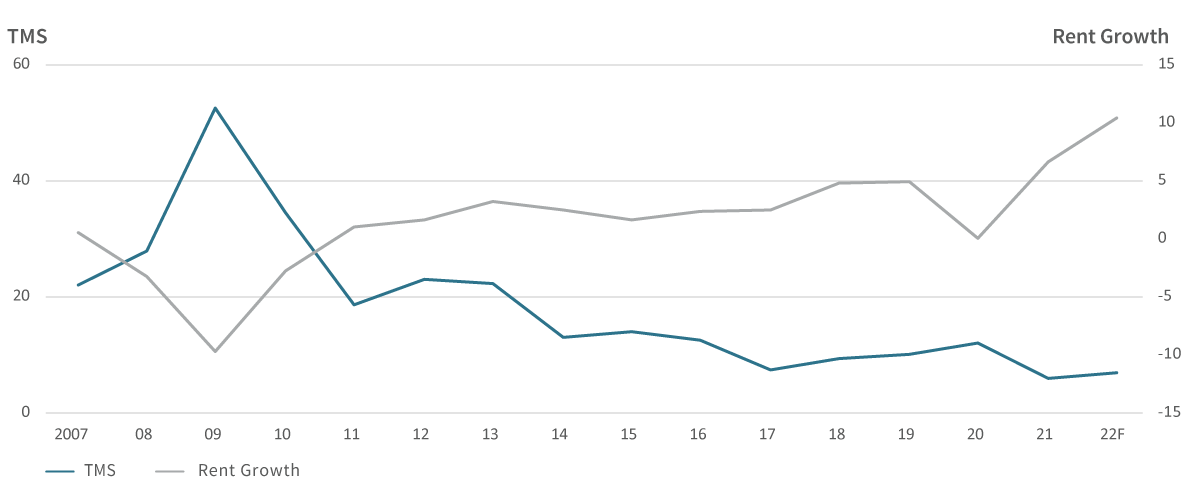 Source: CBRE, C&W, JLL, Colliers, Fraunhofer, Gerald Eve, Prologis Research
Prologis Research will include TMS in its recurring quarterly IBI paper. These proprietary indictors collectively summarize the current state and future direction of the logistics real estate market.
Read the full report here.
Watch the full Research Webinar .
Newer Article
elho group and Dollevoet celebrate opening sustainable distribution center at Prologis Park Tilburg