Prologis Park Eindhoven DC4 is the very first logistics building worldwide to receive Zero Carbon Certification from the International Living Future Institute (ILFI), which assesses projects and buildings on sustainability throughout their lifecycle. By using solar systems to generate electricity, integrating sustainable building materials, and reducing the amount of building materials needed, the development of the warehouse and the operations within the facility have net zero carbon emissions. The warehouse, which is built on a former domestic waste dump, also received BREEAM 'Outstanding' and WELL 'Gold' certificates. The high sustainability of Prologis Park Eindhoven DC4 allows GXO, which is leasing the warehouse, to accelerate their sustainability targets.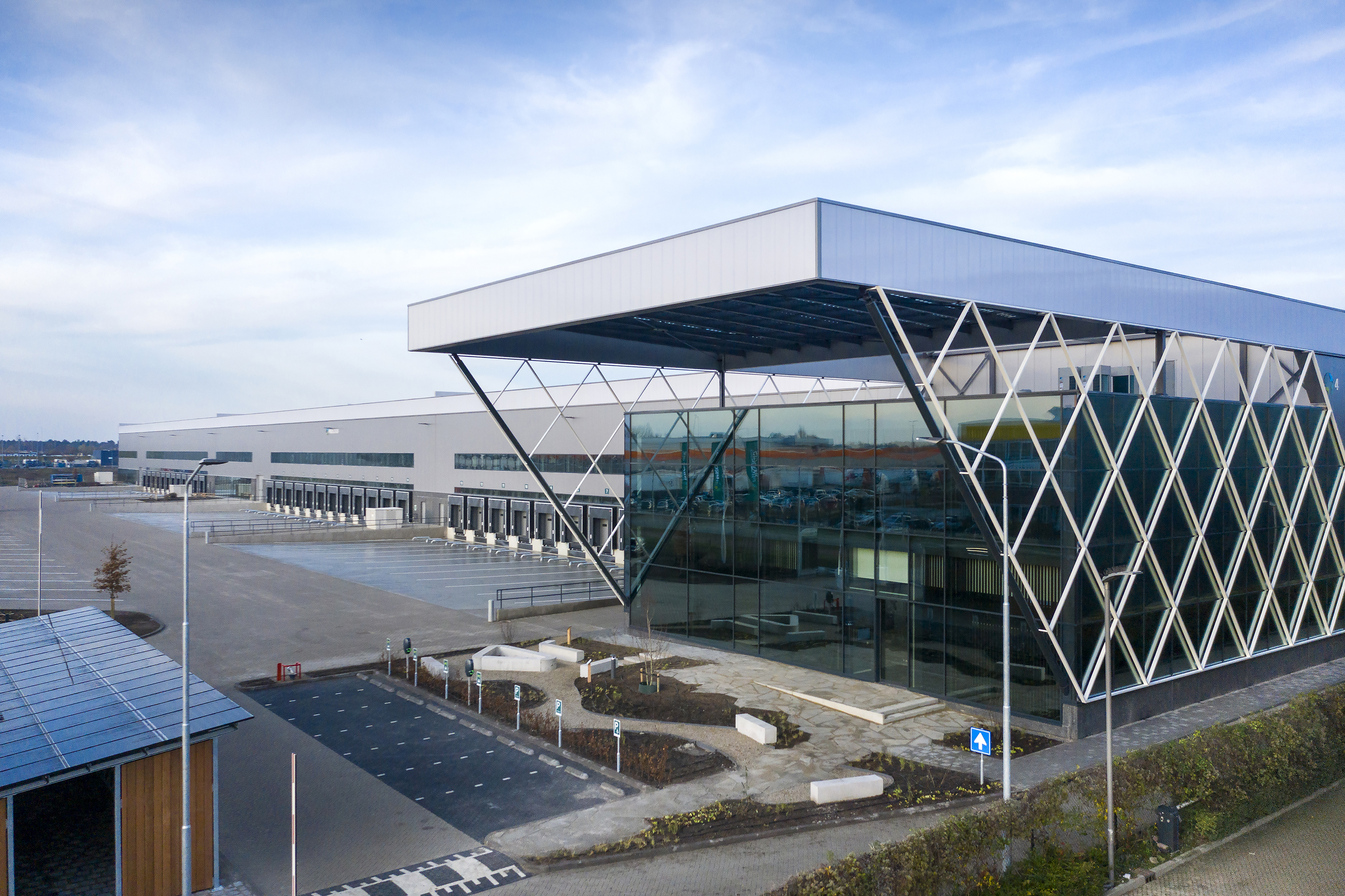 Solar energy production negates need for external offsets
With the aim to create the most sustainable warehouse possible, Prologis Park Eindhoven DC4 was designed as a property without local emissions, with a net-zero carbon output by generating more energy than its own energy consumption, and with a people-centric design to make it a healthy and pleasant working space. Specifically, the electricity that this all-electric warehouse's solar system produces compensates for more than the carbon emission footprint of the development project. This energy data was tested and confirmed during one year of operations.
Lindsay Baker, CEO, ILFI: "Eindhoven DC4, is a strong example of owners, business leaders, architects, engineers, builders, and other stakeholders working to create a building that is a pathway to a regenerative future for all. We're happy to have awarded Prologis with a Zero Carbon Certification, and we hope this inspires many others to follow their lead."      
Carbon reduction during construction
The carbon footprint of the foundation's building materials has been reduced heavily. This reduction has been achieved by choosing more responsibly produced materials such as sustainable concrete via a CSC certified supplier and cradle-to-cradle sandwich wall panels. Moreover, carbon emissions were reduced by selecting local suppliers that were literally close to the construction site. The sustainable energy production will offset the total embodied carbon of the warehouse within 10 years. 
Meagan Fitzsimmons, Chief Compliance and ESG Officer at GXO: "Our commitment to the environment impacts everything we do. As such, we promote sustainability in our operations and corporate infrastructure, because it's the right thing to do for our planet. We are immensely proud to partner with Prologis, and to be in the very first logistics facility worldwide that has a Zero Carbon Certification. This fits perfectly with the bold environmental targets that we have set." 
BREEAM 'Outstanding' and WELL 'Gold'
Prologis Park Eindhoven DC4 received a BREEAM 'Outstanding' certificate, further underlining the sustainable construction and design of the warehouse. The warehouse is set in an ecological environment with nature-inclusive landscaping (a former domestic waste dump) stimulating biodiversity with insect hotels, bird houses, and native plants. Consequently, Eindhoven DC4 was nominated for the BREEAM awards in 2021. With its people-centric design, Prologis Park Eindhoven DC4 also received a WELL 'Gold' certification.
Martijn Kuijken, Head of Development Management Benelux at Prologis: "We're proud to be the first in logistics real estate to receive a Zero Carbon Certification from ILFI. Being awarded with this certification allows us to take a great step forward in our global ESG ambitions to achieve net-zero emissions across our operations by 2030 and across our value chain by 2040. Although it was a challenging project due to the new innovations we had to apply to improve the sustainability and the challenging environmental aspects due to soil contamination, Prologis Park Eindhoven DC4 can now serve as inspiration for the new standard of warehousing facilities."
Older Article
Prologis acquires 6.5 hectares of land in Breda region for sustainable warehouse development
Newer Article
Morrison Express celebrates opening of sustainable warehouse at Prologis Park Eindhoven DC4