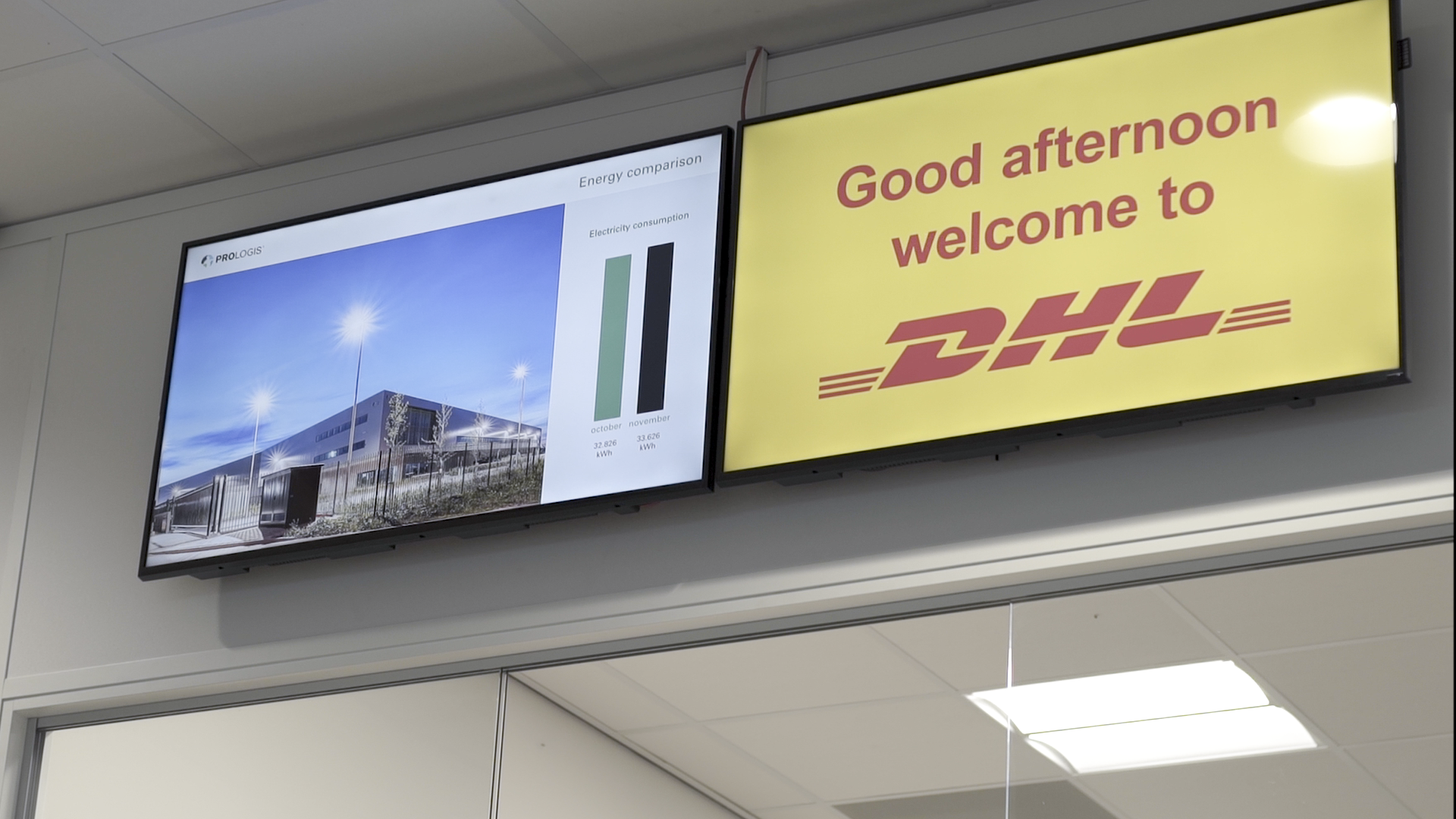 Prologis Benelux, in partnership with Dutch software startup hello energy, has deployed an innovative, integrated tool for visualizing and communicating energy consumption and sustainability impacts within its logistics buildings.
Fully operational in eight Prologis buildings in the Netherlands, the tool connects energy metres and building management systems with data sensors, using narrowcasting to distribute content to users including Prologis' property team, the building's occupants and visitors. The tool, which advances Prologis' longstanding commitment to sustainable business practices, was developed to:
Measure and detect energy consumption, including inconsistencies
Monitor, compare and benchmark energy performance
Gather information for use in industry surveys and sustainable certification processes
Communicate building data to interested stakeholders
Information, including building data and animations of that data, is narrowcast to screens within the building in real time. The highly visual and immediate nature of this information advances the dialogue about sustainable practices and outcomes.
According to Jeannie Renné-Malone, Vice President of Sustainability for Prologis, "Accurate, complete and transparent data tracking is incredibly important to our sustainability initiatives, as well as that of our customers. It allows us to credibly quantify performance and to track progress toward sustainability goals."
This innovative tool is an early indication of the difference smart buildings and data visualization can make to sustainable business operations across the logistics supply chain.
"The tool gives us the opportunity to communicate our ambitions in the field of sustainability in an informative and attractive manner," says Arthur van Kooij, Head of Project Management Northern Europe for Prologis. "Via a landing page, our customers have easy access to the real-time energy data. Using this software also strengthens our ambition as a frontrunner in innovation."
Read more about Prologis' approach to sustainable development.
Newer Article
Prologis White Paper: Supply Chain and Logistics Real Estate